CPA Canada's Quality Management Guide
powered by Auvenir
Digitized quality management platform to support the effective design, implementation, maintenance and evaluation of your firm's system of quality management (SOQM).


Calling all related services and assurance firms - your digitized solution for quality management is here!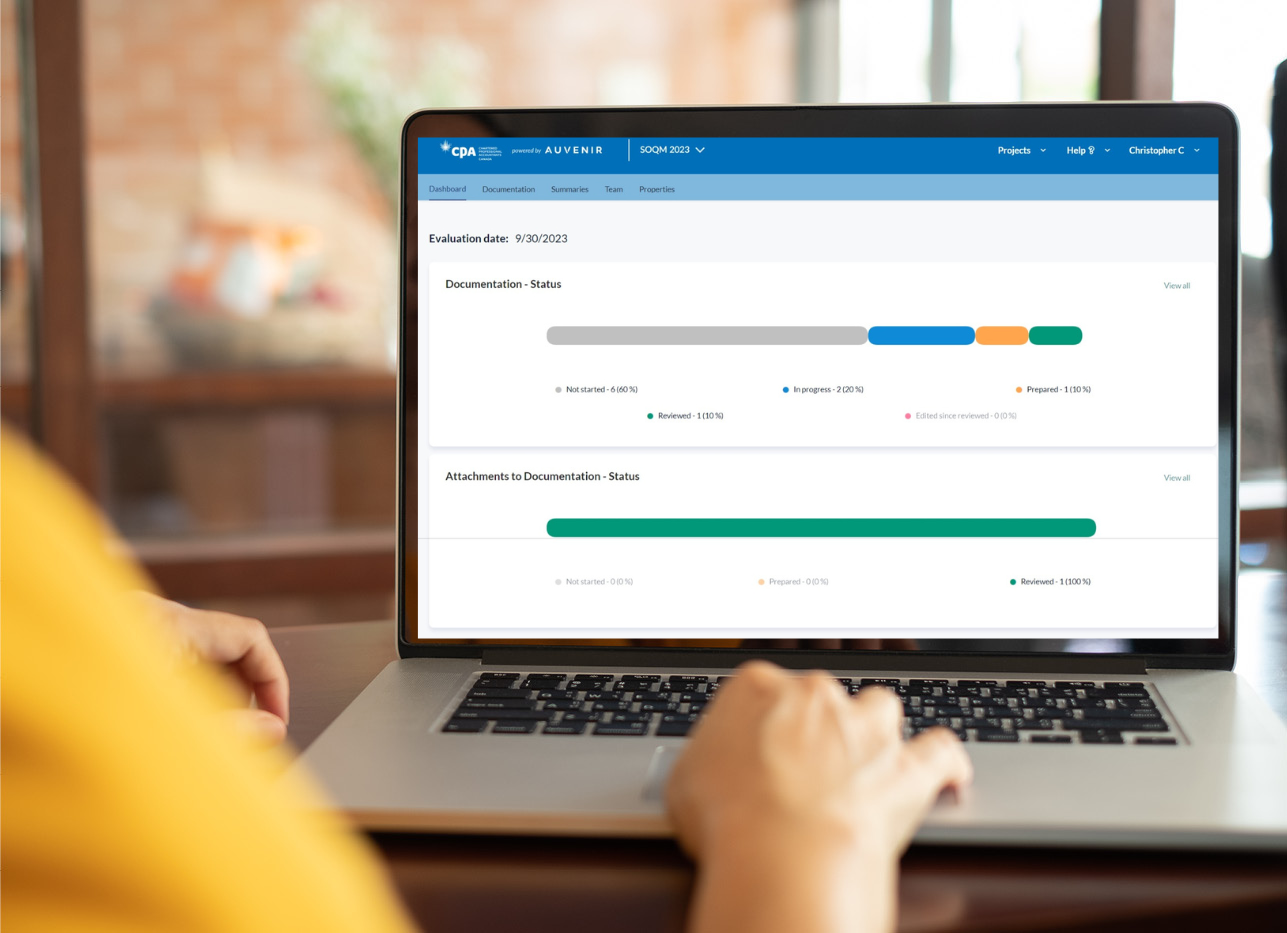 It's time to move quality management to the cloud.
Introducing CPA Canada's Quality Management Guide, "QMG Cloud", powered by Auvenir — a user-friendly, cloud-based quality management system tailor-made for forward-thinking accounting firms.
The QMG Cloud supports firms in implementing and maintaining a system of quality management by simplifying the process, saving time and providing confidence in quality and compliance.
Your path to simplified, digitized quality management starts here!
Have questions? Check out the FAQs below or contact us to learn more about how QMG Cloud can revolutionize your quality management journey.
Customers will receive an email with login details and to assign the licences once their purchase is complete.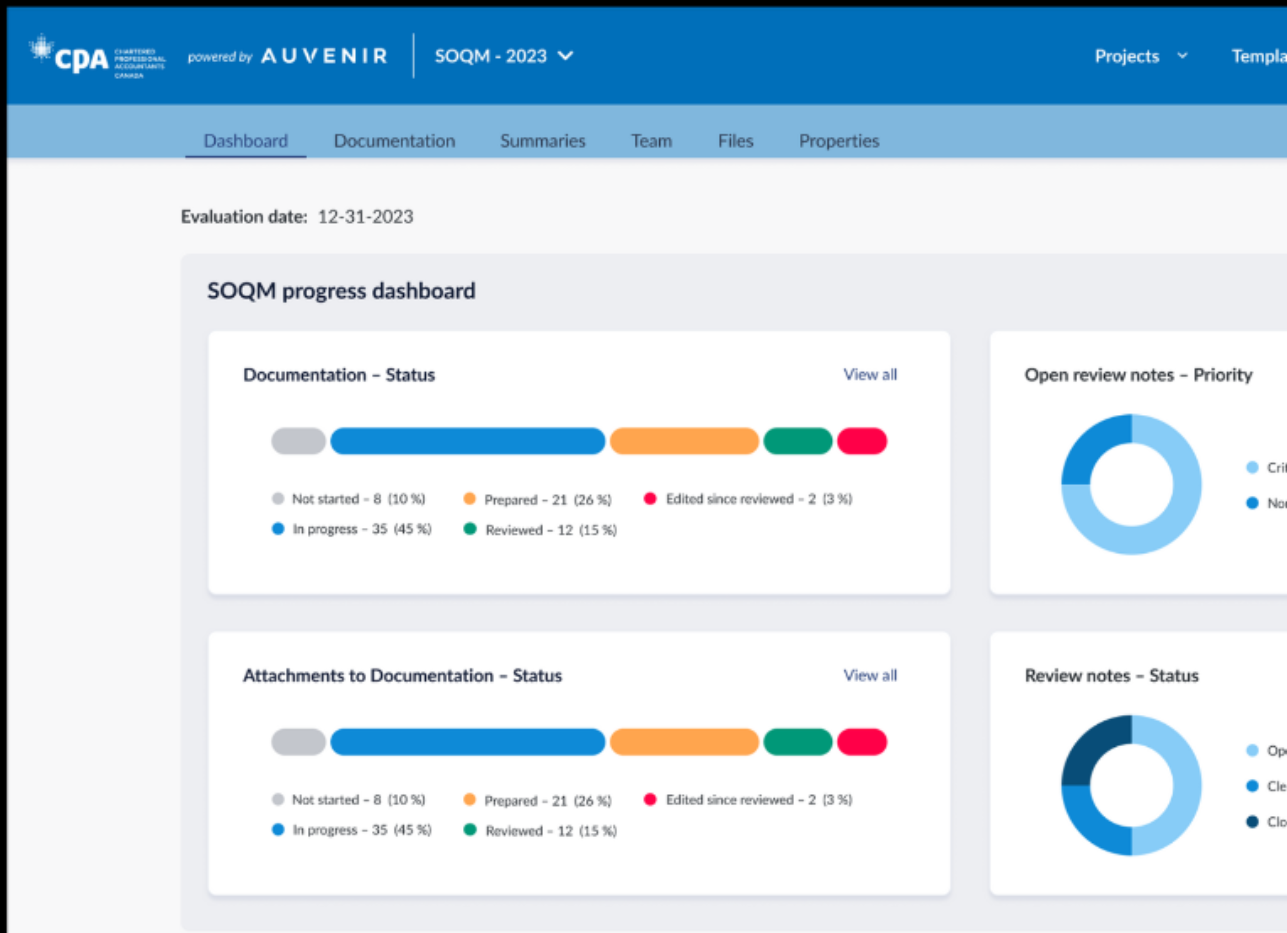 Here's what users are saying about the new QMG Cloud:
Discover how the QMG Cloud can help your SOQM meet digitized new heights!
CSQM Compliant

Enjoy peace of mind with CPA Canada's exclusive content and methodology, seamlessly up to date, directly embedded in the QMG Cloud so you can reduce stress related to regulatory inspections.

Save Time

First time designing your SOQM and unsure
where to begin? Or do you already have previous
quality management experience? Either way, say
goodbye to Word and Excel forms with manual
referencing. Say hello to data persistence — you
can enter information one time and dynamically
link or cross-reference related items or responses within the platform.

Seamless Integration

Connect objectives, risks, and responses
seamlessly within the system.
Single Source of Truth




and System of Record

The QMG Cloud is your central repository for
all SOQM documentation — including policies,
procedures and monitoring activities — with
supporting evidence. No need to search or store
multiple files and folders to support your SOQM.

Tailored to your Firm

You are only presented the content that's
relevant to your firm based on whether you
conduct assurance engagements or related
services engagements. With one click, content is tailored accordingly. If you perform both types of engagements, easily change content libraries in one click without losing your work.

Effective Monitoring

Keep continuous improvement top of mind.
Track monitoring activities and document
evidence throughout the year to ensure findings
are being evaluated and deficiencies are
remediated in a timely fashion.
Ready to transform your quality management approach?
Frequently Asked Questions
When will the QMG Cloud be available?
The QMG Cloud will be available beginning on October 4, 2023.
Why should I purchase the QMG Cloud?
The QMG Cloud automates and digitizes your system of quality management (SOQM)! Some of the exciting features include the ability to:
Store and organize all documentation related to the SOQM, including policies and procedures and all monitoring activities with related evidence, since the QMG Cloud can serve as a central repository.

Link and cross reference related quality objectives, risks, policies and procedures and monitoring activities.

Archive and carry forward the SOQM in a few clicks.

Track the progress of SOQM documentation with the dashboard view.
How many users are included in the QMG Cloud subscription?
The QMG Cloud will cost $660 on an annual basis and grants access for up to five users. Additional user licenses are available for $132 each on an annual basis.
My service offerings do not include reviews nor audits, but I do perform compilations. Do I need to design, implement and monitor a system of quality management (SOQM)?
Yes! Effective December 15, 2023, firms that only perform related service engagements, such as compilations, are required to design and implement a system of quality management (SOQM).
QMG Cloud also features content tailored specifically for firms that only perform related service engagements.
Access to your risk assessment via PDF is available at any time during your subscription period to support activities such as practice inspection and external review.
How long will I be able to access my SOQM data on QMG Cloud?
QMG subscriptions are renewed on an annual basis. You will have access to your SOQM data ongoing for as long as your annual subscription remains active.

You'll also have the option of exporting your SOQM to PDF at any time during your subscription period for such activities as practice inspection and external review.
Can I create my SOQM manually without the QMG Cloud?
Beyond the QMG Cloud, CPA Canada has a number of free downloadable resources available to assist in complying with the Canadian Standards on Quality Management. You can find these resources at this link.

However, consider the benefits with QMG Cloud. Practitioners will now be able to tailor content relative to whether they perform assurance engagements, related services engagements or both. A huge time savings to help them identify risks and responses that are in line with the services the firm offers.
Is there a way for me to migrate data to the QMG Cloud? I've done some work on my SOQM but it isn't complete yet.
Auvenir offers innovative, cloud-based quality management, client engagement and assurance solutions that enable firms to leverage the best of today's technology to create better experiences for practitioners, their teams and their respective clients.
Auvenir's technology has been used on over 50,000 successful small to mid-sized client engagements to date, in 90 countries and supports enterprise customers such as large accounting firms, public audit offices and now a national CPA association, focused on building customized solutions on the Auvenir platform.
Why has CPA Canada partnered with Auvenir to build QMG Cloud?
CPA Canada was in search for an innovative partner and platform, both ahead of the curve and technologically flexible enough to meet the quality management needs of the practitioner, now and well into the future. That search led them to Auvenir for being well-aligned in delivering:

• Operational Efficiency: through real-time updates and centralization – to significantly enhance productivity and process optimization.
• An Integrated System: that goes well beyond document storage. It functions as an advanced centralized repository with workflow automation, data persistence and the ability to monitor activities, as well as dynamically link data to minimize the chance of unaddressed input errors.
• A Quality-Driven Approach: that streamlines the quality management process and enhances management oversight, enabling practitioners to implement and evaluate the system of quality management by the required deadlines.
Ultimately, it is a partnership built on a shared commitment to quality and compliance with next-level efficiency and productivity.
How secure is my data on QMG Cloud?
Security and trust are engrained in QMG Cloud.
QMG Cloud data security standards meet or exceed bank-grade security policies. And with bank-grade or better security, practitioners can rest assured all data is safe, and accessible and resides in Canada.

Only "invited" team members can access the firms' SOQM based on assigned permissions. Auvenir is SOC2 certified stressing security at all application levels.
What kind of support will be available with QMG Cloud?
Auvenir's Customer Success team is available to guide you every step of the way.
We'll help you:
Get Started with QMG Cloud

Access a dedicated QMG knowledge base (with FAQs, How-To Videos and Help Guides)
Your success is our priority - we've got you covered.